TARGIT is a privately-owned software provider founded in 1986 with its headquarters in Aalborg, Denmark. The company serves over 8,000 customers, most of whom are in Europe and North America, while about one-third are distributed across the rest of the world.
TARGIT aims to help businesses make impactful data-driven decisions by offering innovative software, industry insight and services focused on strong customer and partner relationships. It is positioned well for companies of all sizes requiring an all-integrated BI and analytics platform with substantial prebuilt content for selected industries.
TARGIT Decision Suite offers integrated self-service analysis, ad hoc reporting and dashboards with capabilities for batch reporting, mobility, slideshows and data mashups. Capabilities are provided to embed analytics applications and visuals into other applications and web portals through a no-footprint web client. The Document Model is intended to reduce the effort required to design content and make it available across all devices and output types.
The company offers a multitude of vertical solutions. The most prominent are those for manufacturing and retail, while solutions for heavy machinery, waste management, fleet management, medical billing, fashion design and apparel are showing traction as well. Providing not only a BI solution but also knowledge in the software remains a strong focus of TARGIT. The vendor continues to add verticals (e.g., airports) and further predefined content such as connectors mapping data from distinct source systems to the industry models to its portfolio. Moreover, its partner network is expanding, and partners also provide vertical solutions for various industries, thus expanding TARGIT's potential market.
One of TARGIT's current investment priorities is modernizing its solution to containerize its components for efficient deployment in the cloud and enhanced scalability. TARGIT delivers the same software for on-premises and cloud, facilitating the migration for existing customers but at the same time offering customers both options at the same quality. SaaS is offered on Azure at the moment with more providers expected in the near future. TARGIT is proud of its own in-memory database and rightly so. With the move to the cloud, it has evolved into the more scalable TARGIT Cloud Analytics DB to further reduce the dependency on Microsoft technology (e.g., MS SQL Server) that used to power the platform and provide superior and reliable performance.
TARGIT continues to work on enhancing its enterprise features by optimizing the UI/UX experience to enable designers to create dashboards, analyses and reports quicker and deploy them on large enterprise portals with better support for an improved cross-platform experience.
User & Use Cases
TARGIT Decision Suite is a true BI & analytics platform that is very powerful in delivering standardized content to a wide audience through dashboards and BI applications or standard and enterprise reports which are used by almost all customers. Analysis capabilities are also used by most customers (87 percent). Although TARGIT does not support financial consolidation or planning and budgeting, many customers use it to create reports and dashboards based on the data generated. This underlines the platform's versatility.
TARGIT's customer base is dominated by mid-sized companies. In this year's survey, 62 percent of respondents came from companies with 100 to 2,500 employees. Due to the distribution of customers per company size, TARGIT reaches more users that the survey average. Overall, a mean average of 119 users per company use TARGIT, while the median is 75.
As TARGIT has historically been installed predominantly in accounts using operational software from Microsoft, and the software itself traditionally focused on the Microsoft SQL Server platform, Microsoft remains one of its biggest competitors.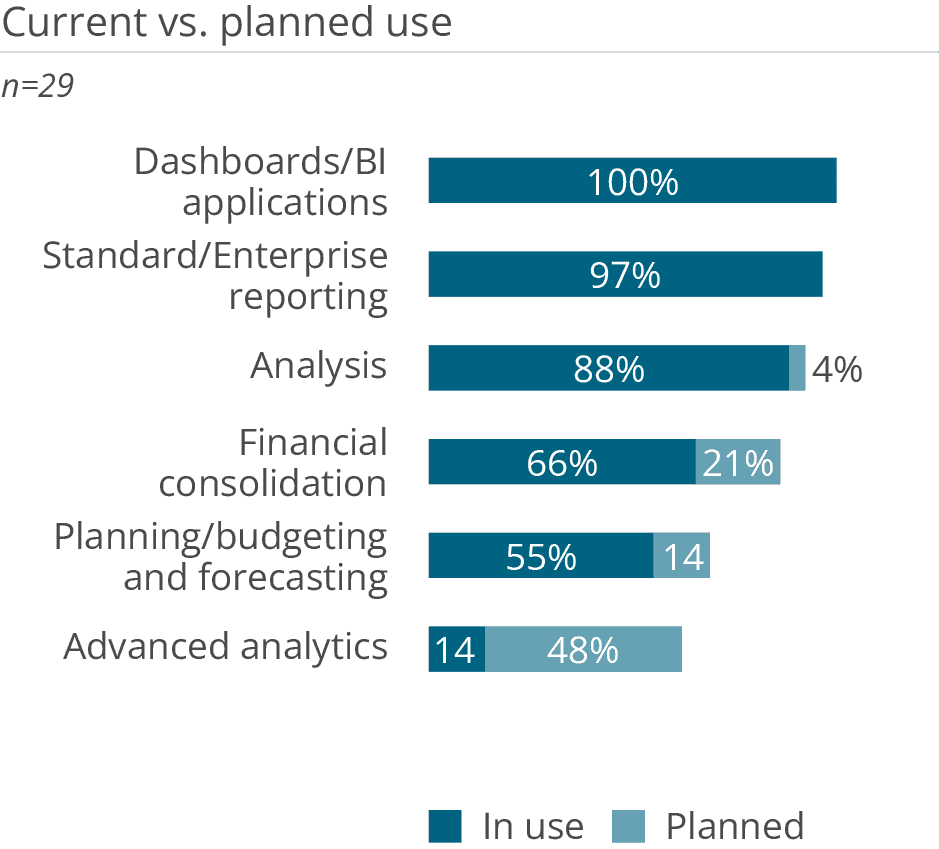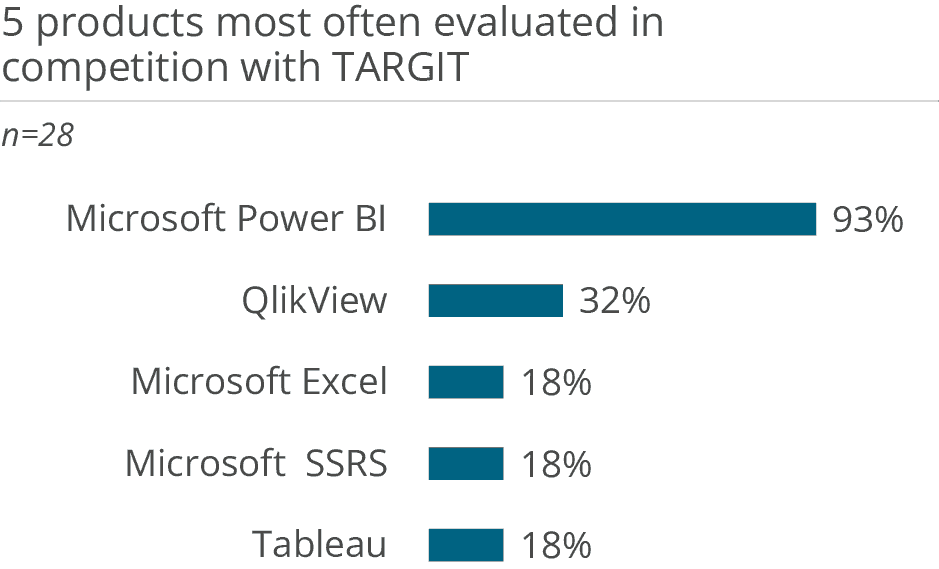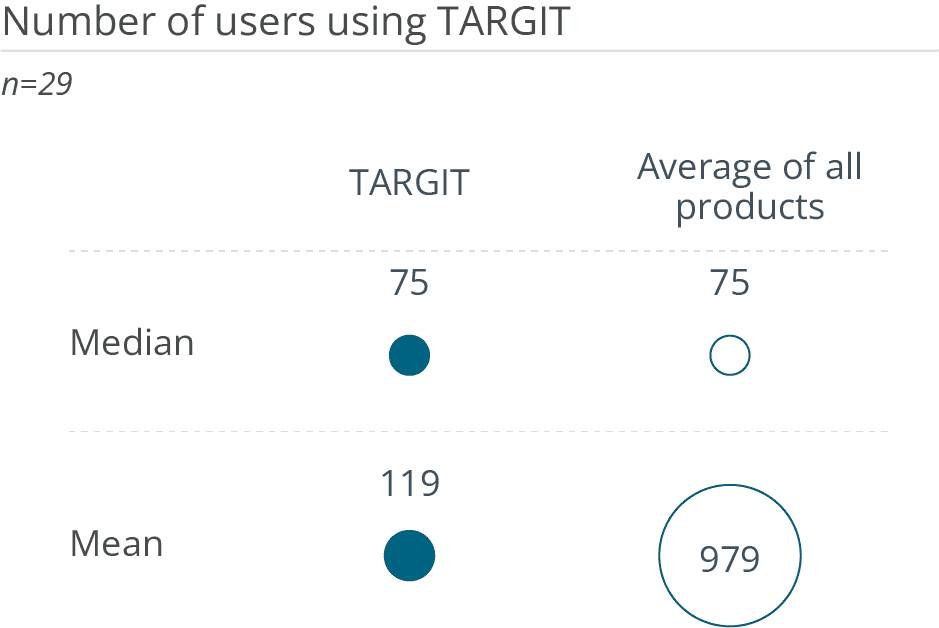 Summary of TARGIT highlights
Creating and distributing standardized content is one of TARGIT's core strengths. Besides the aforementioned advantages, survey respondents rate its report distribution options and func-tionality for dashboards and reports very highly. The software achieves top ranks for the Dash-boards & Reports KPI in all five of its peer groups and is ranked in the top two in all its peer groups for the Distribution of Reports KPI. This clearly shows where its strengths lie: Delivering relevant information to users in a manner that suits their needs and thus improves decision-making by informing decisions on all levels.
TARGIT scores highly in all the KPIs that contribute to the aggregated Customer Satisfaction KPI. Product Satisfaction is high, and customers are happy with the level of Vendor Support and Im-plementer Support. TARGIT not only provides software of exceptional quality, but also ensures that customers get the full package to enable them to reap the benefits of their BI & analytics investment.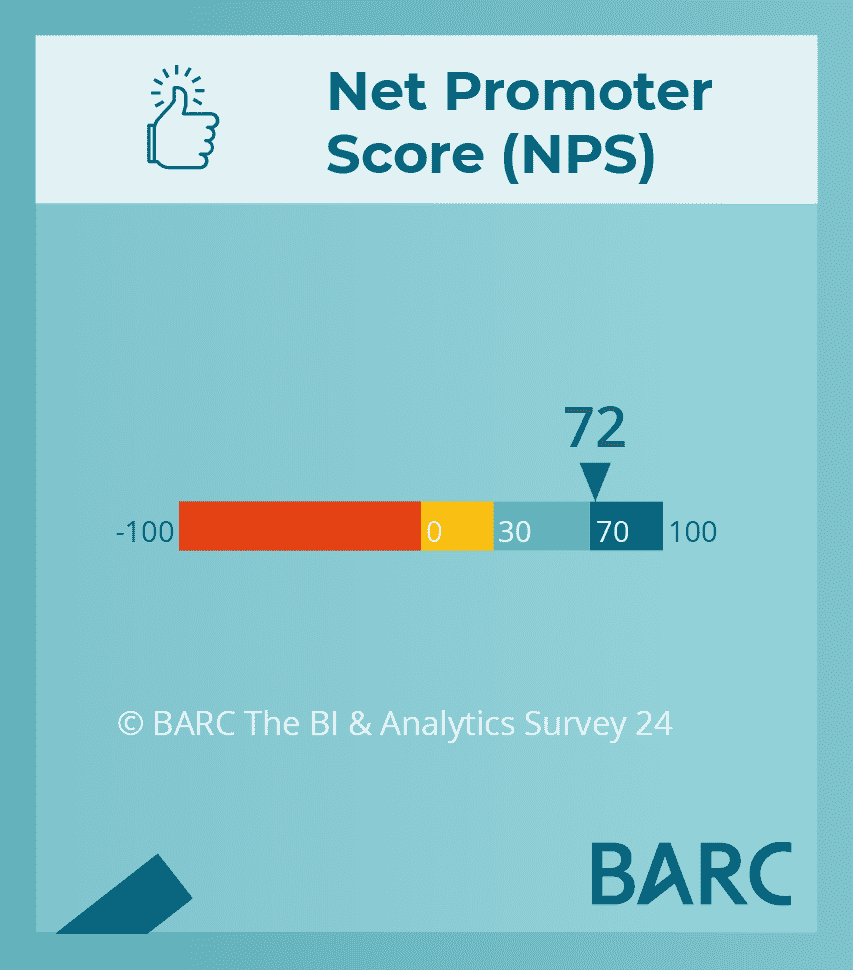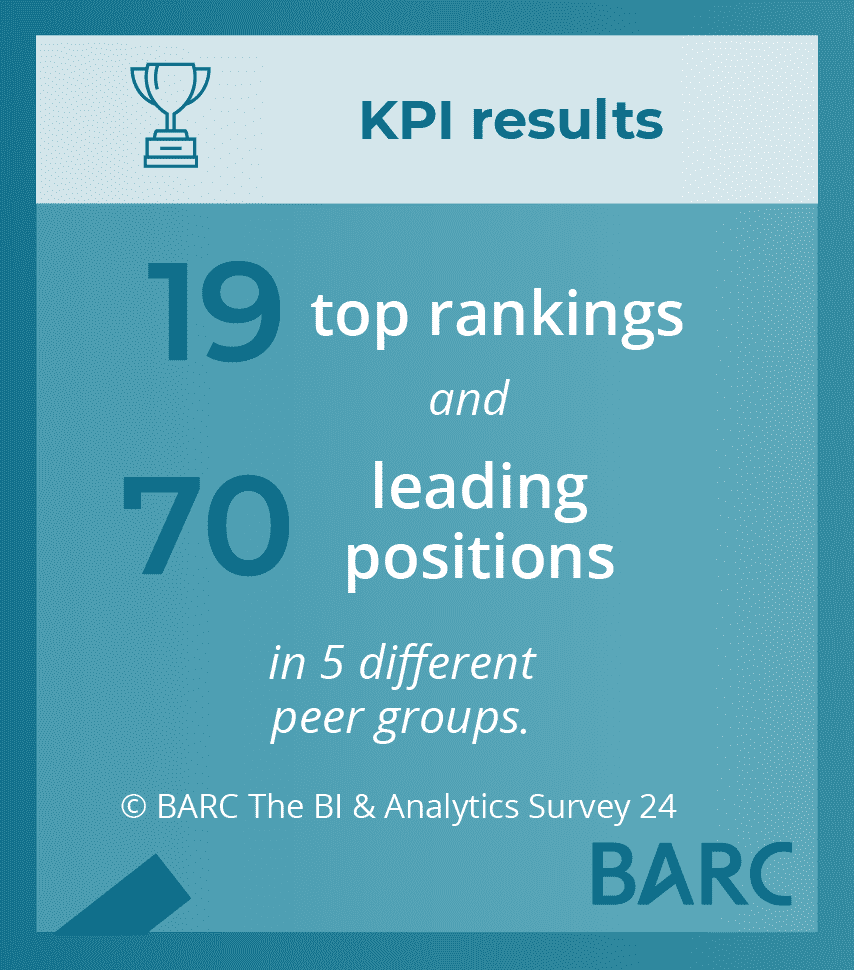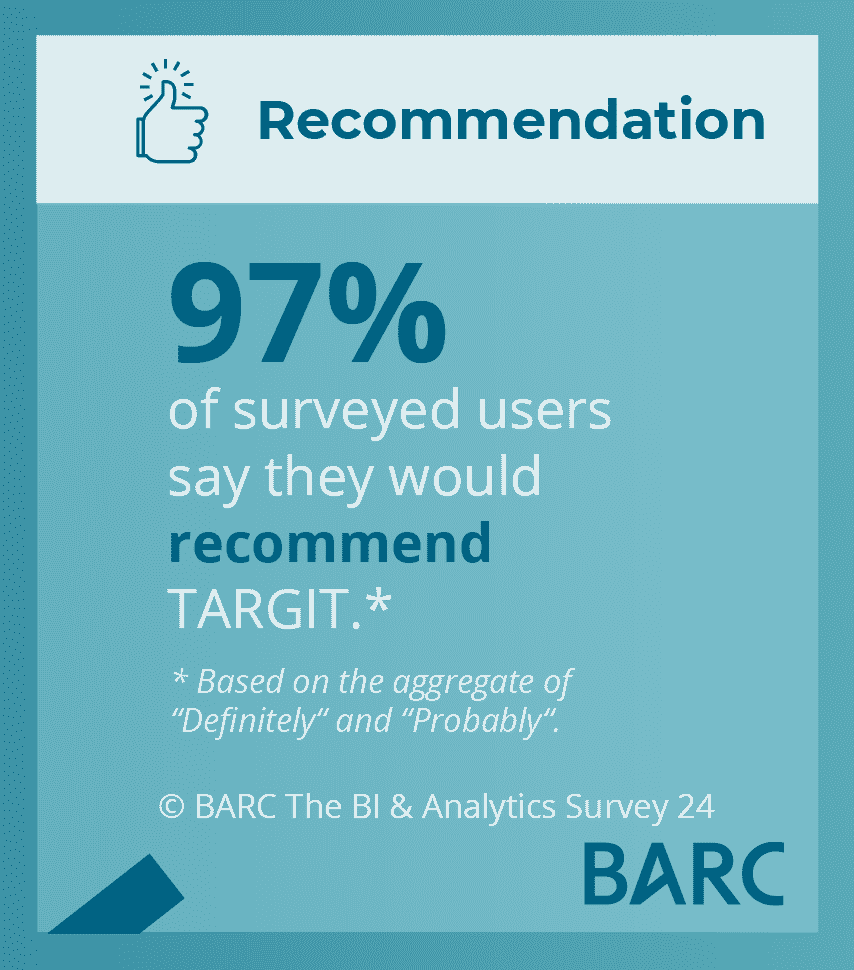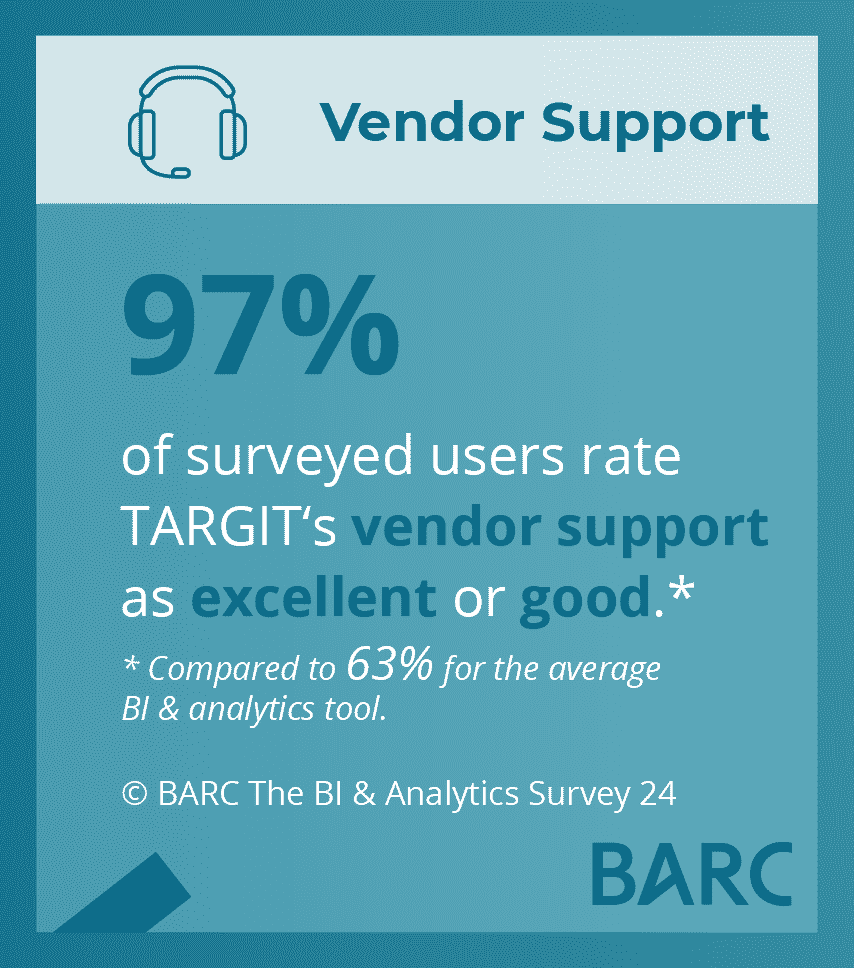 Want to see the whole picture?