SAS Data Management
Founded in 1976 by Jim Goodnight, John Sall, Anthony Barr and Jane Helwig, SAS emerged from a pro-ject at North Carolina State University designed for agricultural research analysis. Over the years, it has become a major software firm focusing on analytics, business intelligence and data management. Dedi-cated to pioneering innovative analytics solutions, SAS transforms data into actionable intelligence, aspiring to create a more informed world. The vendor's vast portfolio encompasses advanced analyt-ics, data management, business intelligence and artificial intelligence, tailored to specific industries such as risk management and health sciences. With over 14,000 employees, SAS currently has a presence in 148 locations and serves many customers globally.
SAS Data Management, introduced in SAS 9.4 to replace SAS Enterprise Data Integration Server, is a holistic data integration, quality and governance solution. It specializes in data cleansing, master data management, ETL processes and big data integration. Its core functionalities range from data integra-tion and quality assurance to governance, master data management and event stream processing. For deployment, SAS Data Management offers varied options including on-premises, cloud (supporting platforms like AWS, Azure and Google Cloud) and a dedicated SAS Cloud service.
In the SAS Viya framework, SAS Data Management is integral for data readiness, harmonizing data preparation, data integration, data governance and quality assurance. SAS Data Engineering is a new data management offering on SAS Viya that helps modern data teams to access, process, refine and govern raw data from any source or format, on premises or in the cloud.
SAS Viya, a cloud-ready, in-memory analytics engine by SAS, supports swift data processing and visual-ization. Compatible with multiple programming languages, including SAS, Python, R and Lua, it enhanc-es the SAS suite with a refreshed, open architecture that integrates effortlessly with other SAS offerings. This adaptability allows data experts and business analysts to cooperate using their tools of choice, promoting a cohesive analytics strategy.
SAS Data Management is working hard to provide comprehensive data management capabilities that can support modern data stacks. Major areas of enhancement include advanced cloud integration to ensure flexibility and scalability; data quality and governance to maintain compliance while ensuring data integrity; integration with advanced analytics and AI to automate data management tasks and sim-plify user interactions; and collaboration and accessibility to foster data democratization.
User & Use Cases
SAS Data Management is mainly used in data warehouse and business intelligence scenarios. 71 per-cent of customers use it for data warehousing and 63 percent for data integration. A good proportion also utilize it for data preparation, data warehouse automation, data intelligence, self-service analytics, data governance and security. This highlights the comprehensive functional capabilities of the suite to address a diverse range of use cases.
The high level of use for data warehouse automation (42 percent) is interesting. Although the solution is not well known as a dedicated tool for data warehouse automation, automation capabilities (rules, ML/AI algorithms) have been integrated and seem to work well, as can be seen in the KPI results.
The tool is mostly used by large or medium-sized companies. This corresponds to the image we have of SAS. The average number of SAS Data Management users is rather modest at 40. This suggests that the tool is only made available to a small number of business and technical experts to take care of data management tasks. It is mostly used in hybrid set-ups (cloud + on-premises) or in on-premises imple-mentations. More than one third of the respondents to this survey use the tool several times a day, and approximately two thirds use it weekly or monthly.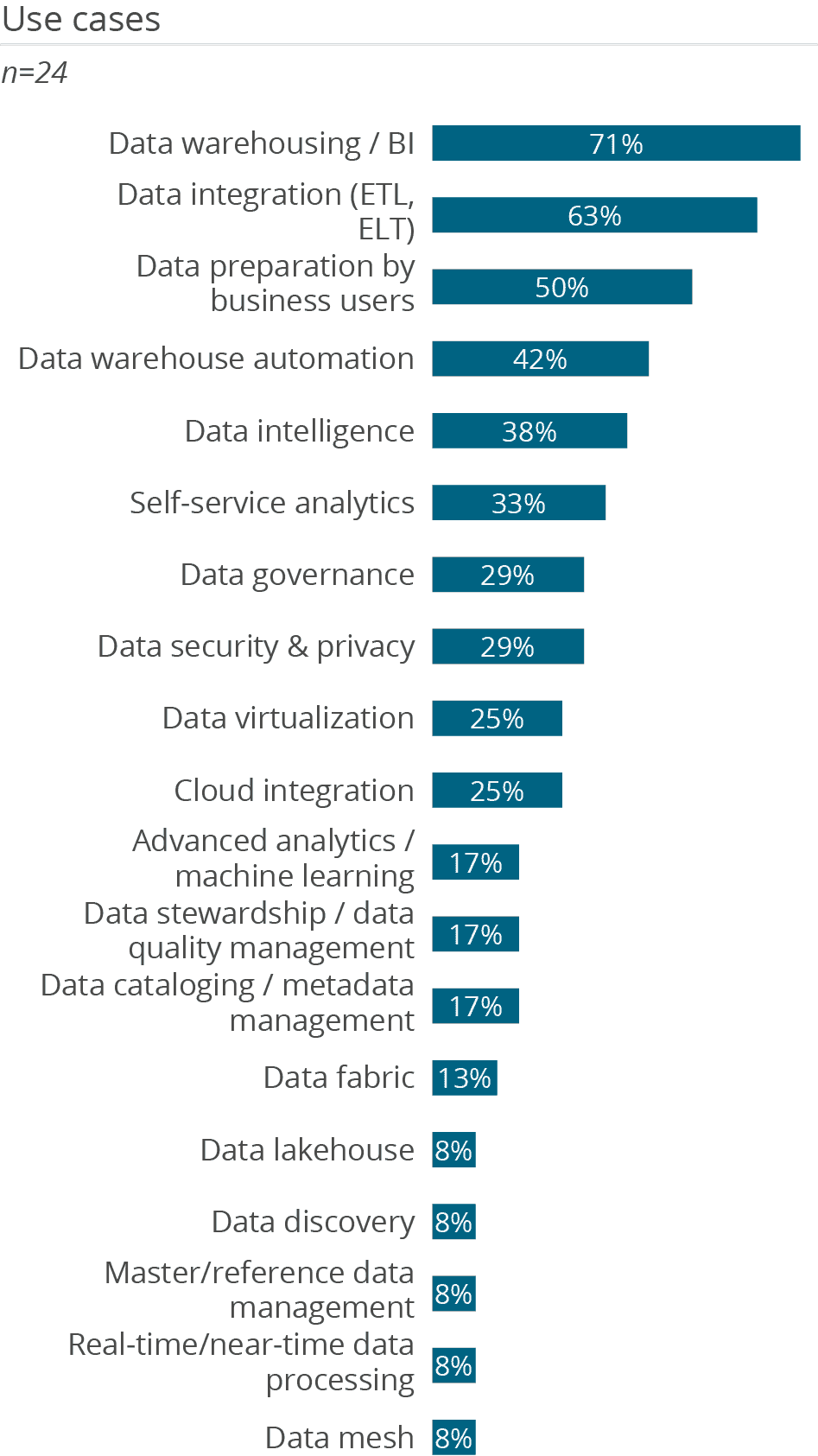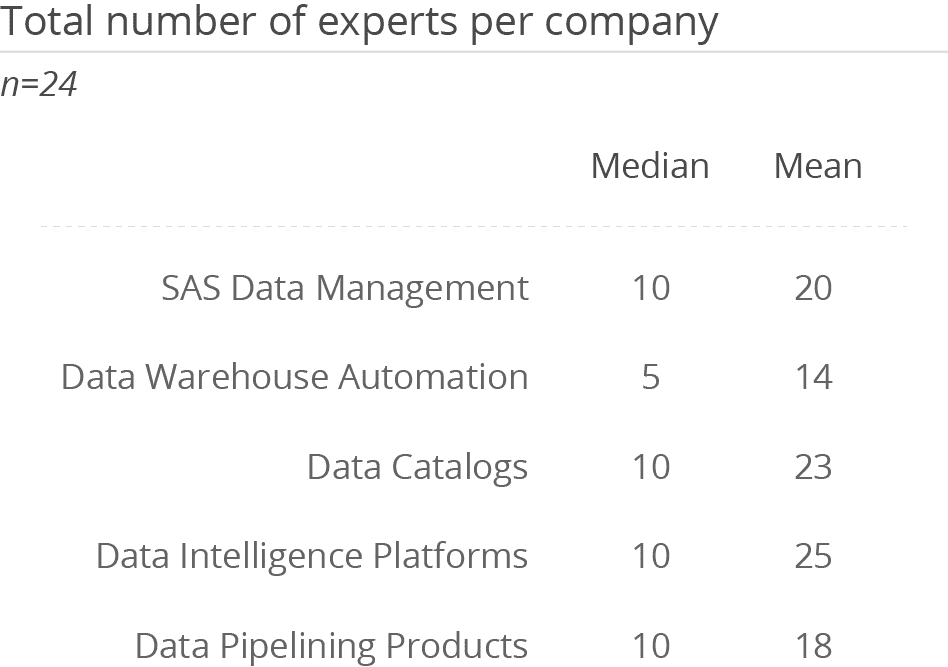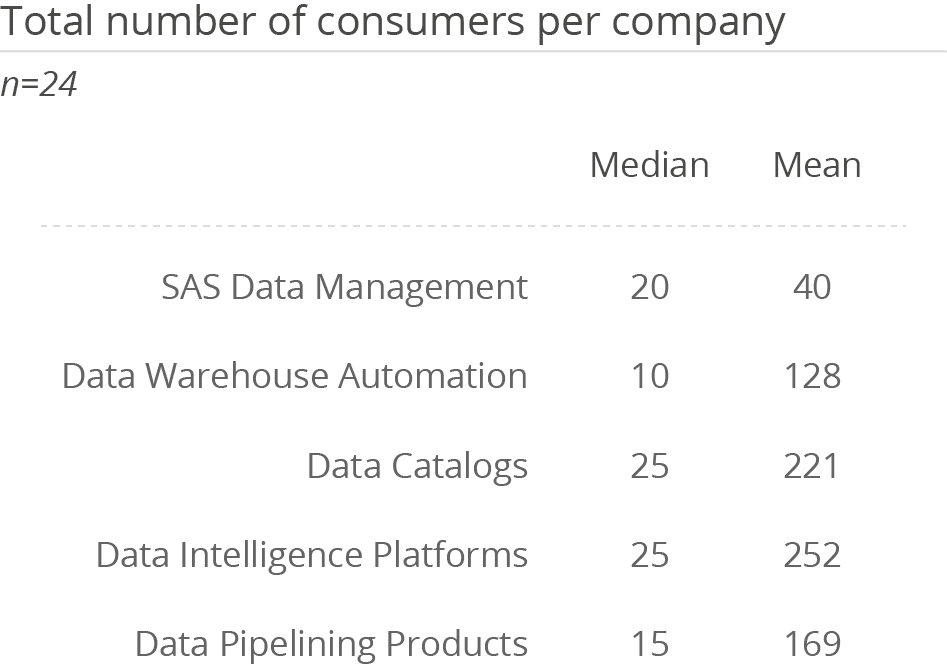 Want to see the whole picture?