SAP Analytics Cloud
SAP was founded in 1972 as a business applications company. Today, the vendor has a turnover of €29.52 billion, employs more than 105,000 people, and is one of the largest business software vendors in the world.
SAP's data and analytics portfolio is based on SAP Business Technology Platform (BTP), which provides cloud-based data, analytics, application integration and extension services across all SAP products. The platform is built on SAP HANA Cloud, a modernized cloud-based version of SAP HANA, the vendor's in-memory database.
From a strategy perspective, SAP is investing heavily in innovation in the cloud while still supporting and developing its on-premises solutions. The vendor offers classic BI and analytics enhanced with augmented and predictive analytics, as well as corporate planning. For BI and analytics, the cloud-based SAP Analytics Cloud and the on-premises SAP BusinessObjects BI are the core offerings. Predictive analytics functionality for business users is covered in SAP Analytics Cloud while more extensive functions for data science are made available in SAP BTP.
SAP Analytics Cloud, SAP's strategic cloud offering and analytics platform, brings together capabilities such as BI, augmented and predictive analytics, and planning into one integrated platform. The product is continuously becoming richer in features such as application and dashboard design, planning and predictive functionality as well as being enhanced with prebuilt business content (e.g., solutions for finance, sales and marketing, HR and various industries). The product is fully web-based with a modern web client and a Microsoft Office 365 Excel add-in. SAP Analytics Cloud has a modern and user-friendly UI and offers functionality for guided insights in data, automated insights via Smart Predict and Smart Discovery as well as functionality for all individual planning activities including strategic, operational, functional and financial planning.
SAP Analytics Cloud can be used with its own data sets or to query selected SAP data sources directly (e.g., SAP HANA, SAP BW/4HANA, SAP Datasphere, SAP BusinessObjects Universes). Customers can take advantage of this live connection to implement hybrid cloud scenarios without moving, caching or persisting the data into the cloud. In recent versions of Analytics Cloud, SAP has strengthened the product's integration and connectivity with SAP and non-SAP sources, its planning, predictive and workflow functionality as well as its reporting and dashboarding capabilities through a new optimized story experience. 'Stories' can be used to build highly individual and interactive dashboards and analytics applications. While SAP Analytics Cloud is aimed at business users creating analytics content, it also incorporates JavaScript capabilities to enhance the level of interactivity and customization of applications.
User & Use Cases
Customers mainly use SAP Analytics Cloud for dashboards/BI applications (85 percent), standard/enterprise reporting (60 percent) and analysis (50 percent). 70 percent of respondents plan to use it for advanced analytics and 48 percent for planning/budgeting and forecasting in the future.
SAP Analytics Cloud targets large corporations and mid-sized companies across all industries, mainly those that have an existing SAP system landscape. 73 percent of our sample of SAP Analytics Cloud customers come from large corporations (more than 2,500 employees) with a median of 250 users, but the mean of 1,082 users indicates there are also several significantly larger implementations.
SAP Analytics Cloud is often considered for purchase in software selection processes, particularly by SAP customers who use it together with SAP data sources. Besides SAP's own products SAP BW, SAP Analysis for Office and SAP BO Web Intelligence, Microsoft Power BI and Tableau are most often evaluated in competition with SAP Analytics Cloud.
Customers achieve an average of 9 percent usage penetration among all employees, which is significantly below the survey average of 20 percent. This indicates that the product is focused more on trained business power users than the majority of employees.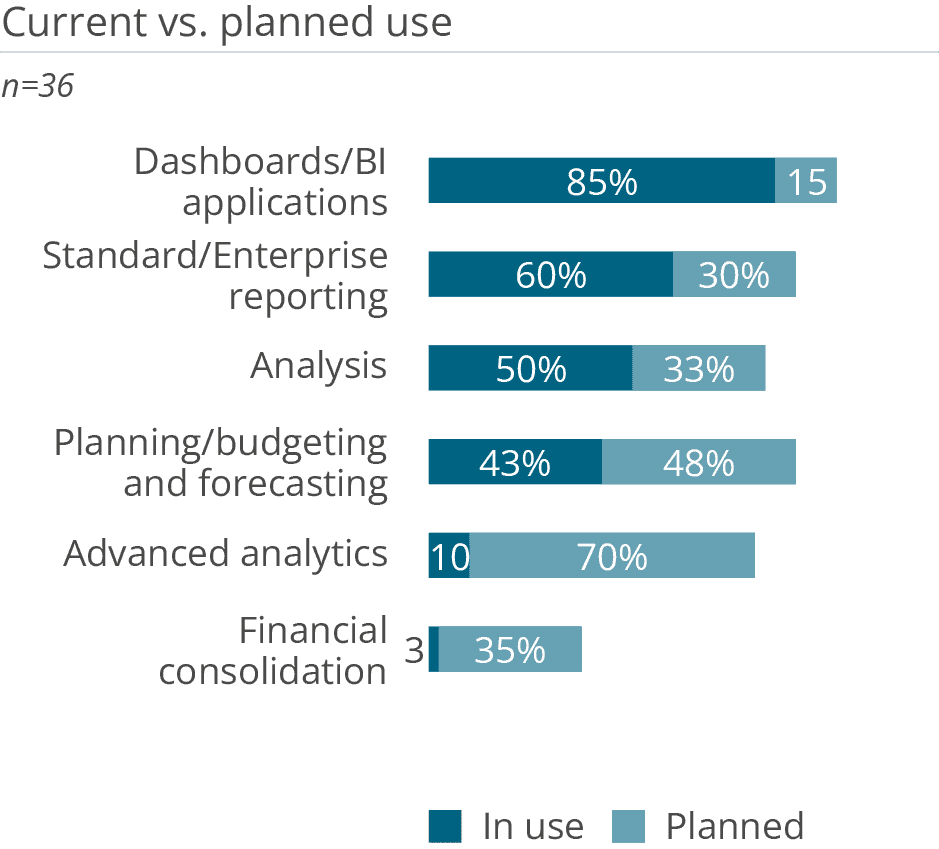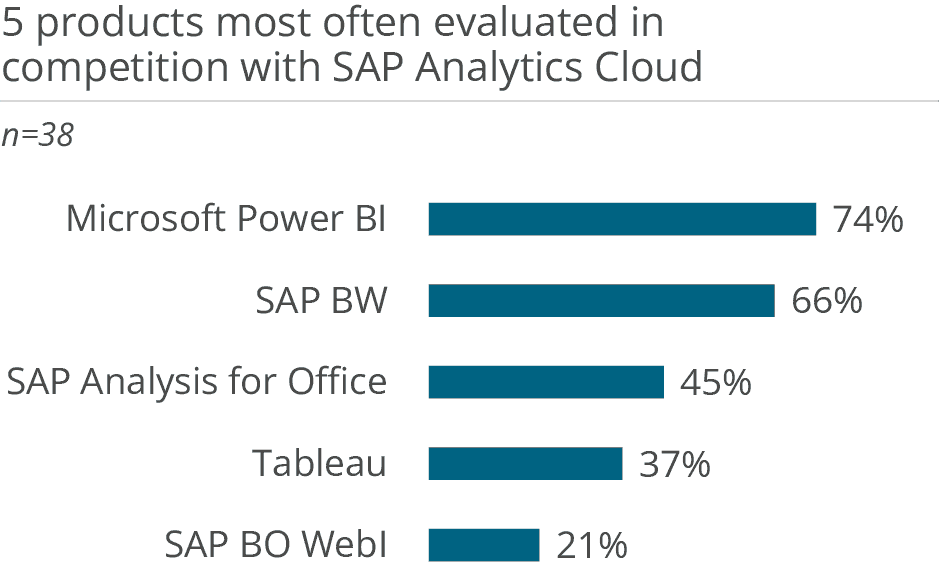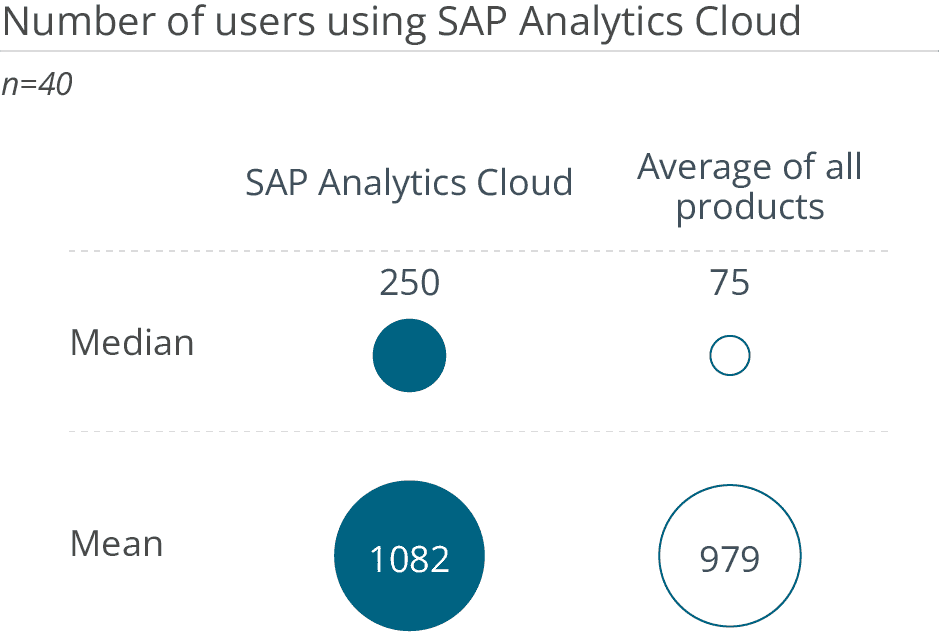 Want to see the whole picture?