Founded in 2009, Pyramid Analytics is a privately held software company based in the Netherlands with over 200 employees. With offices in the United States, Israel and the United Kingdom, the company has a global presence and serves over 1,000 customers.
In 2012, Pyramid Analytics launched its first BI product, BI Office. The year 2017 marked a pivotal moment with the launch of the Pyramid Decision Intelligence Platform, an innovative solution designed to streamline and improve the decision-making process for organizations.
Pyramid seamlessly integrates data preparation, reporting, dashboards, machine learning and advanced analytics into a unified enterprise BI and analytics platform. Its unique design bridges the gap between self-service and IT-driven BI, giving decentralized users agility while maintaining centralized oversight and control. This approach fosters enterprise-wide collaboration and facilitates the sharing of business logic and content.
Pyramid is positioned as an open and versatile web-based platform. Its open architecture allows it to be deployed in a variety of environments, including cloud, hybrid and on-premises. In addition, Pyramid supports a wide range of devices and operating systems, with full gesture support for touchscreens and mobile devices. This adaptability allows organizations to transition from traditional on-premises systems to modern cloud-based configurations.
Pyramid also offers REST API support for embedding and automation. Its analytics engine, 'PYRANA', enables rapid in-place analysis of large data sets spanning multiple data sources using ANSI SQL or MDX. Pyramid natively supports multiple relational, in-memory, cloud data warehouses, and unstructured data sources. In particular, it offers certified support for multiple SAP data sources, making it a valuable alternative for leveraging data from platforms such as BW/4HANA.
Pyramid excels in data preparation and modeling and supports data integration and processing. For machine learning and artificial intelligence, the platform integrates with R, Python, MLib, Weka and TensorFlow. Pyramid also facilitates write-back to select relational data sources.
The company's investment in natural language query (NLQ) capabilities aims to provide fast search-based analytics across all data sources without the need for up-front data indexing. 'Smart Insights' use natural language generation (NLG) to explain critical findings, predictions and relationships when applied to visualizations or query results.
Recent enhancements include the Tabulate and Solve modules. Tabulate provides a browser-based spreadsheet environment similar to Microsoft Excel, with familiar formulas and extensive formatting options. Objects created in Tabulate are stored centrally, differentiating it from competitors. Solve, an optimization engine built into Tabulate, assists with decision modeling and problem solving. Insights from Tabulate can be easily shared with others using the Publish module.
User & Use Cases
Pyramid serves a wide range of user needs. The product is most commonly used for dashboards and analytical applications (90 percent) and analysis (79 percent). A few years ago, enterprise reporting was used more frequently than dashboards. Now, only 72 percent of respondents use the product for enterprise reporting. This marks an interesting shift in the use of the platform, caused not only by the market trend, but also as a result of the vendors' efforts to improve its dashboard capabilities.
Advanced analytics functionality is used by 45 percent of respondents, a significant increase from previous years. Pyramid offers native Python integration into the product's data flows and has also extended its support for GenAI through its OpenAI integration. This support for advanced analytics is a key differentiator for Pyramid. 86 percent of this year's respondents were from medium and large enterprises with a median of 200 users. The mean of 5,702 users shows a significant increase in the number of large deployments.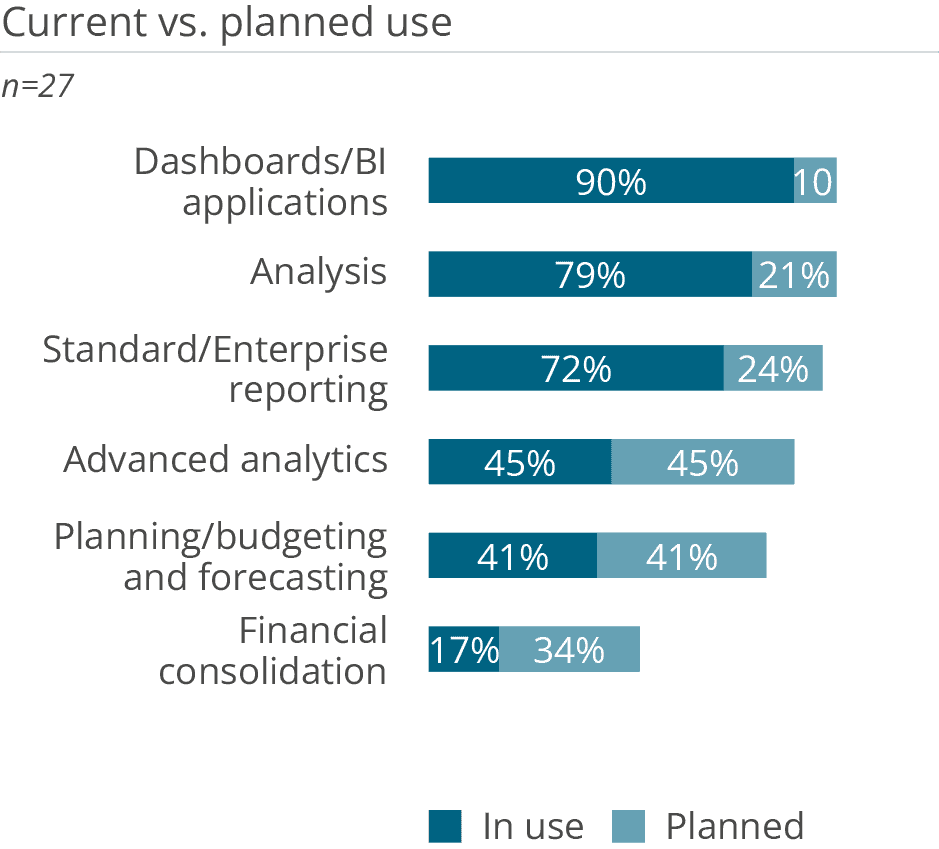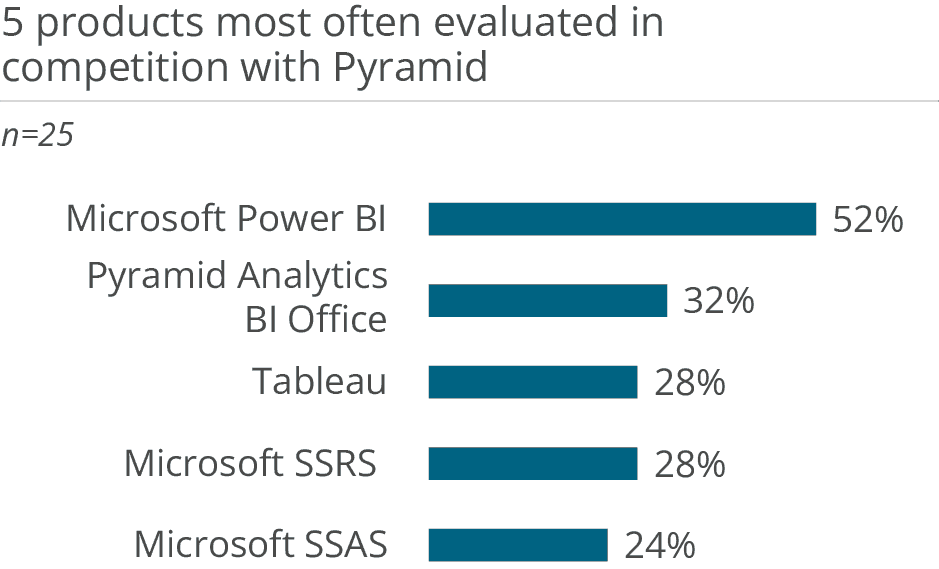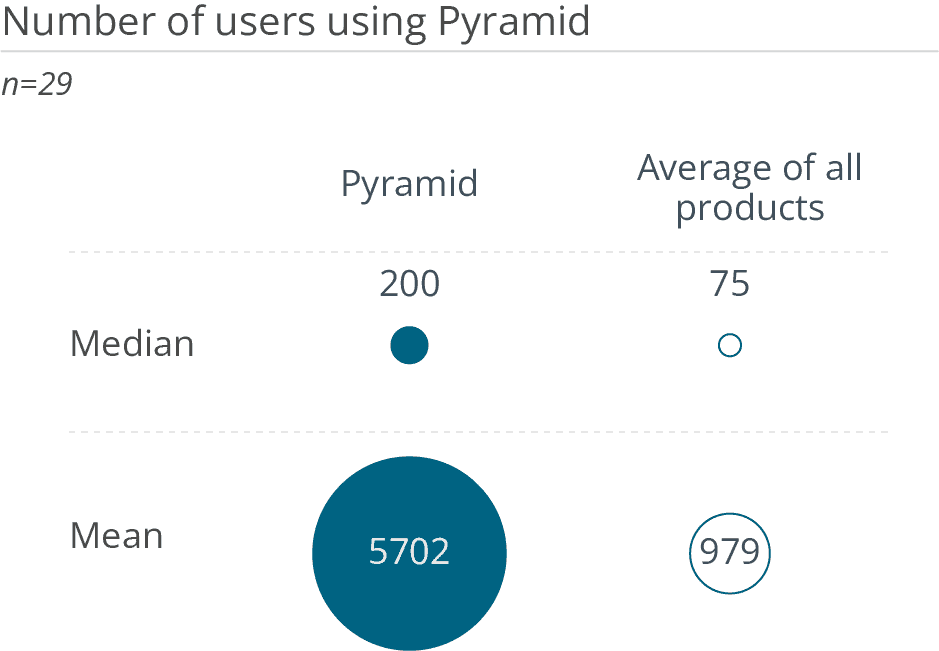 Summary of Pyramid highlights
To measure Project Success, we asked customers to rate their satisfaction with various aspects of their implementation projects. Several factors contribute to the perception of a successful BI and analytics project, such as completing a project on time and within budget, and, of course, satisfaction with the implementation itself.
Users gave Pyramid higher than average ratings for all aspects of their projects. As a result, Pyramid is ranked number one in two of its peer groups and among the leaders in all other peer groups. This is not surprising, as Pyramid has held the top spot in the Large/Enterprise-Wide Implementations peer group for five years.
The Vendor Support KPI shows how satisfied customers are on average with the support provided by the vendor during implementation and operation. World-class support is critical for buyers who want to realize significant benefits on an ongoing basis. Poor support is a major reason for a significant number of abandoned implementations.
Pyramid satisfies most of its customers with a software that is too often neglected by other BI and analytics platform vendors that focus on the enterprise segment of the market. This fact is highlighted by the significant gap between Pyramid – as the top-ranked product in the Large/Enterprise- Wide Implementations peer group – and the runner-up.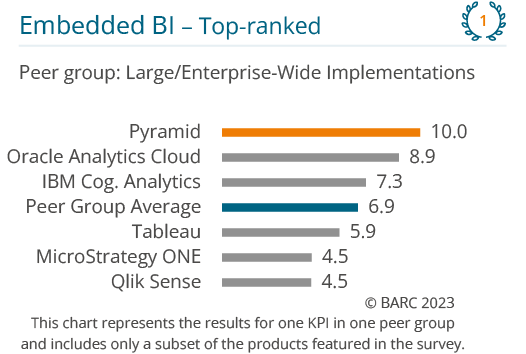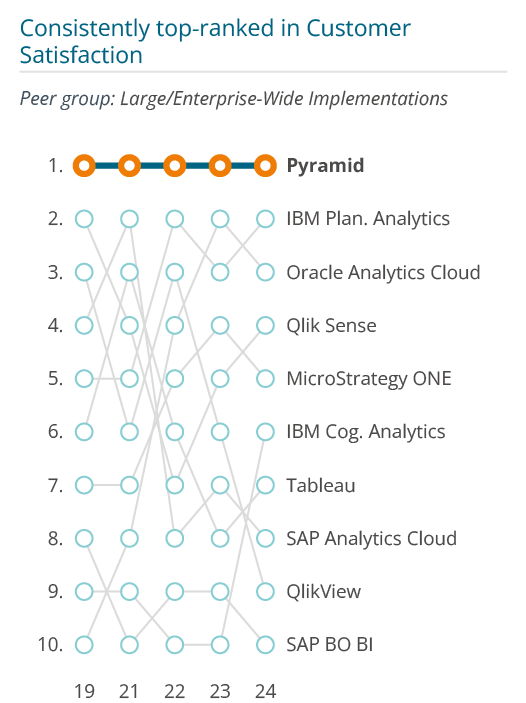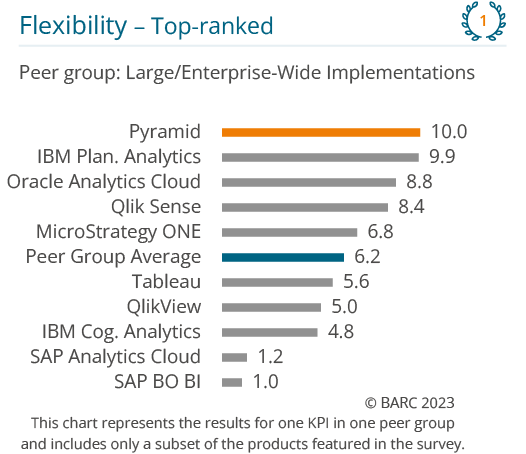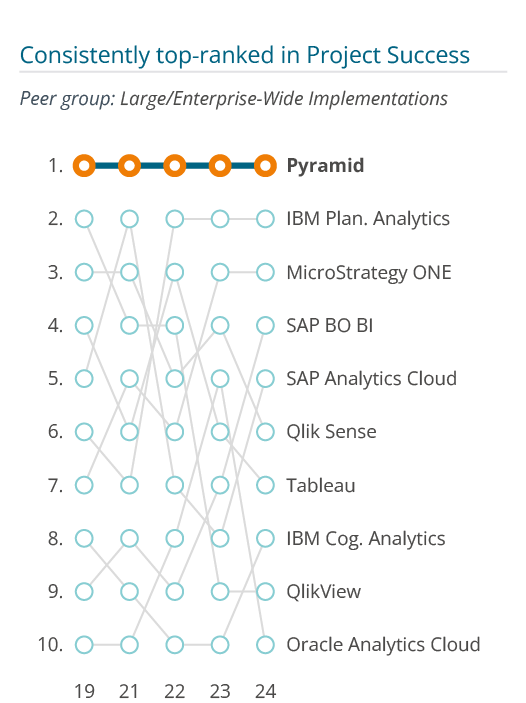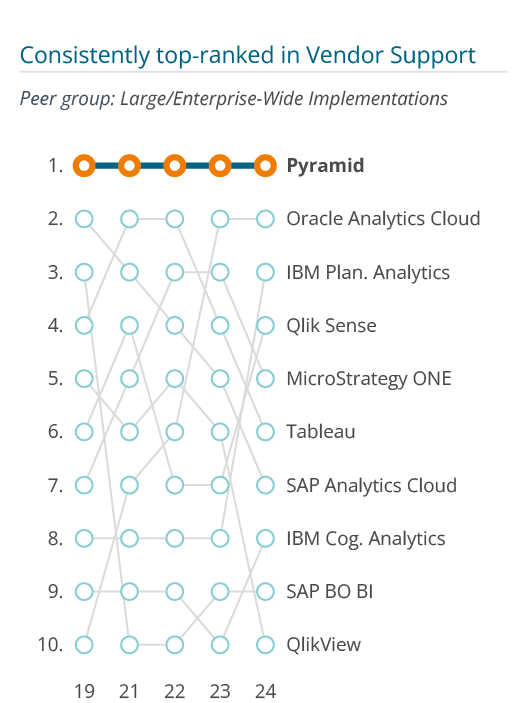 Want to see the whole picture?