Oracle Analytics Cloud
Oracle is a global provider of enterprise cloud computing, offering software, platform, infrastructure and even data as a service. With over 170,000 employees, Oracle is one of the giants in the market.
The Oracle Analytics (OA) offering rests on three major pillars: its flagship product for BI and analytics Oracle Analytics Cloud (OAC) running on Oracle Cloud, Oracle Analytics Server (OAS) for on-premises and multi-cloud deployments and Fusion Analytics for embedded analytics within the vendor's portfolio of business applications. Oracle Analytics utilizes the tried-and-tested but modernized foundation of Oracle BI (OBIEE) and incorporates some of its modules, such as Publisher for developer-oriented pixel-perfect reporting, to provide extended functionality and compatibility.
Oracle Analytics Cloud incorporates business-user-oriented capabilities for the full analytics cycle. It provides modules for developing and deploying formatted reports, interactive dashboards and analytics suitable for business users. Its goal is to create an integrated platform for data, analytics and AI in which OAC plays an important part. It is also used to embed BI and analytics into any Oracle product.
Recently, Oracle has introduced many innovations into OAC, such as the new self-optimizing, in-memory analytics engine. The models created by the new semantic modeler can be consumed by third-party applications such as Power BI, extending the value of models maintained in Oracle Analytics.
Augmented data preparation for business users and custom data transformations via Data Flows are also provided, as well as visual analysis in a comprehensive and integrated analytics platform. Furthermore, integration with Oracle Autonomous Data Warehouse (ADW) is constantly evolving to take advantage of centralized and governed data models. Oracle Analytics Server, the on-premises version of OAC, brings the power of the cloud platform to organizations that need on-premises deployments or want to run it in other clouds.
With Automated Insights and 'Explain', users can leverage automated insight generation powered by ML and NLG. Relevant drivers, patterns and clusters are identified and visualized with little to no effort. Beyond that, forecasts leveraging weighting algorithms can be created based on the drivers identified with one click too. Natural language queries ('Ask') can be used to analyze data without deep technical knowledge or to search across all data sets cataloged in many supported languages.
Complementing the portfolio, machine learning algorithms are embedded out of the box with Oracle Analytics Cloud. R and Python scripts can be embedded to leverage the results of advanced analytics models. Additionally, ML algorithms embedded in Oracle databases can be used without moving data, providing enhanced speed and flexibility of analytics.
User & Use Cases
Customers mostly use Oracle Analytics products to create dashboards and BI applications (73 percent) as well as standard/enterprise reports (73 percent). About 67 percent of our sample uses OAC for analysis purposes. However, the most interesting use case is advanced analytics: 45 percent of OAC users in The BI & Analytics Survey 24 have already used the product for advanced analytics and a further 45 percent plan to do so. Also, almost half of respondents (45 percent) have used it to support planning/budgeting and forecasting processes and 36 percent have performed financial close tasks. These figures underline the versatility of the product and its ability to serve various scenarios in the BI and analytics field.
Our respondents come primarily from large organizations with more than 2,500 employees (67 percent). Interestingly, about a fifth of Oracle users in this survey come from small organizations with less than 100 users (22 percent). However, the median of 200 users and mean average of 361 users show that Oracle Analytics is still used predominantly in large organizations with large user bases.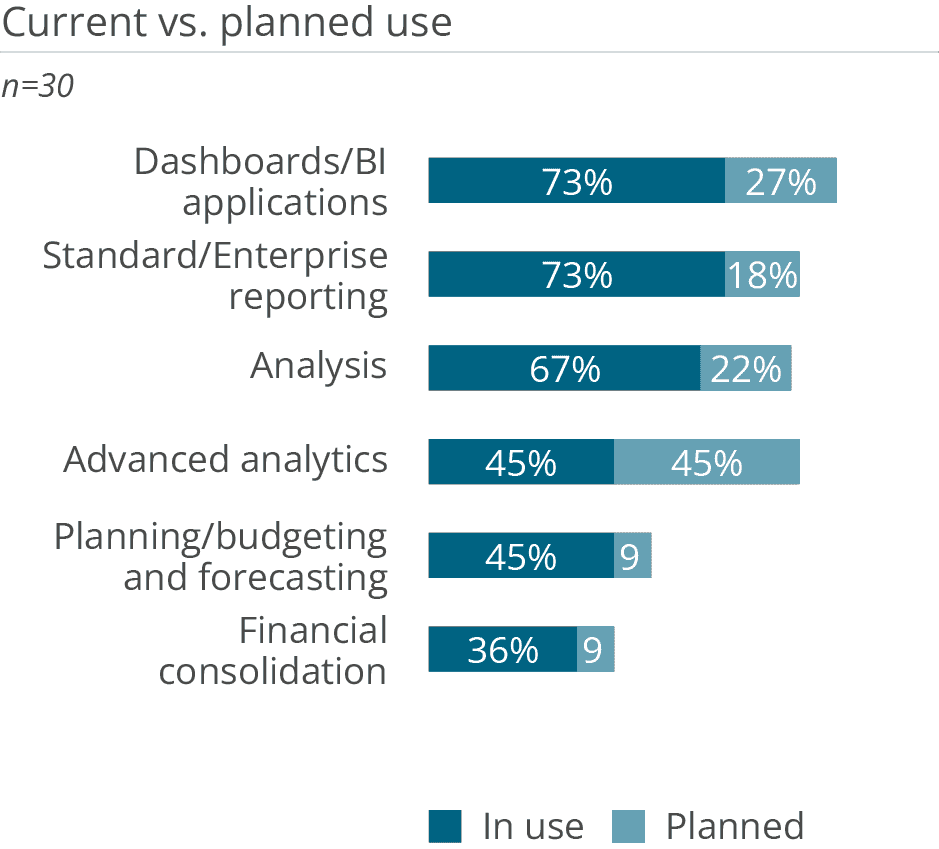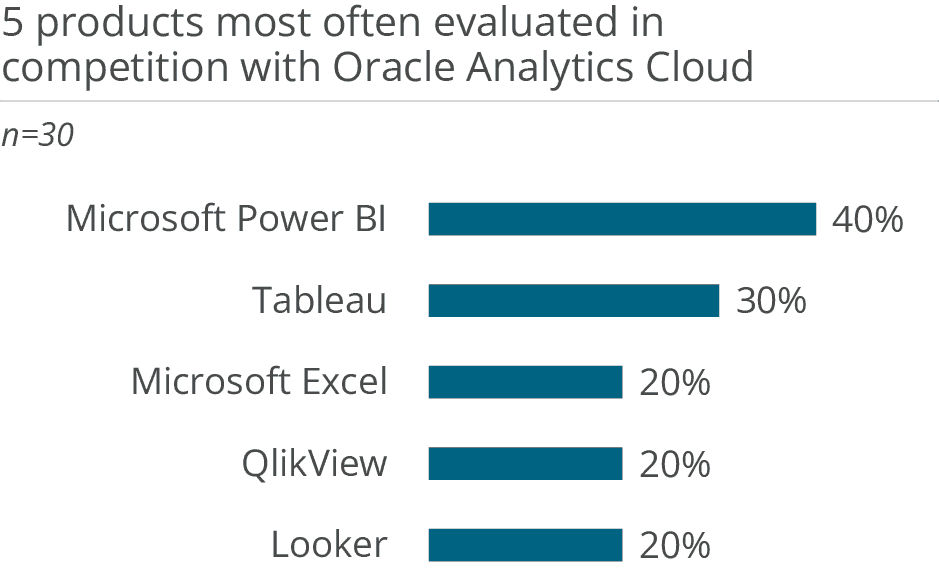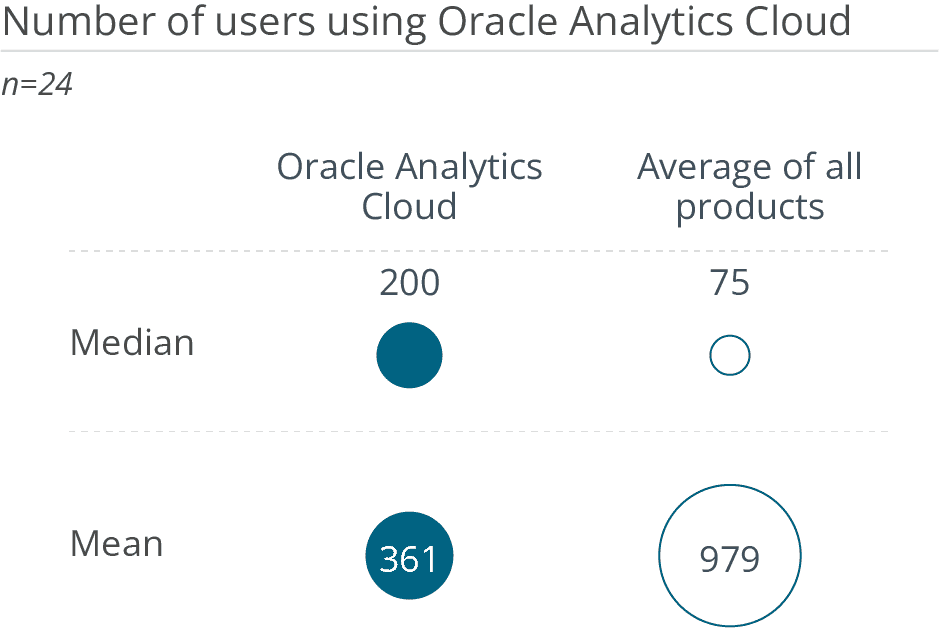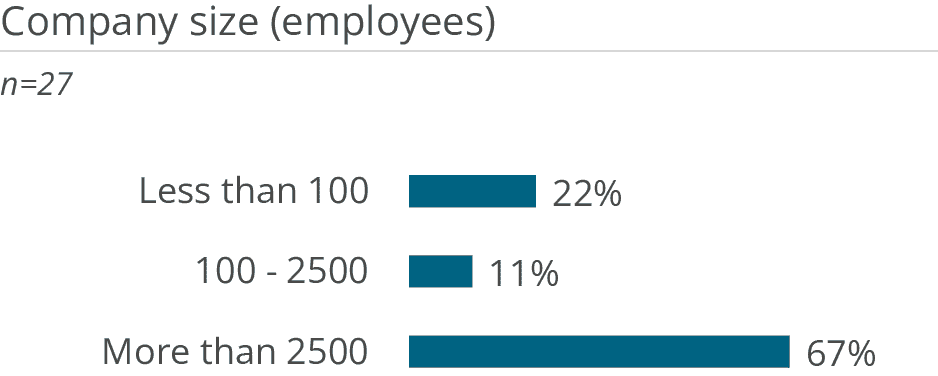 Want to see the whole picture?