IBM Planning Analytics
IBM is one of the world's largest vendors of IT hardware, software and services. The company has a global workforce of approximately 300,000 employees and is active in over 170 countries.
IBM offers a comprehensive portfolio of on-premises and cloud analytics and performance management solutions (in particular, for planning and financial consolidation). Its core offerings consist of IBM Cognos Analytics with Watson (IBM Cognos Analytics) and IBM Planning Analytics. For financial consolidation and regulatory reporting, IBM Cognos Controller is part of the performance management portfolio.
IBM Planning Analytics – the vendor's strategic enterprise planning product – is a core element in IBM's performance management portfolio and has been on the market since the 1980s. Due to its rich functionality for planning and OLAP analysis, as well as its underlying in-memory TM1 technology, the product plays a strategic role for IBM. Planning Analytics is available in both classical on-premises and cloud versions. Essentially, Planning Analytics is a high-performance, multidimensional, in-memory database for budgeting, planning and forecasting with Excel and web front ends. The product is targeted at business power users for building all kinds of applications (e.g., planning, analytics, strategy management). Therefore, it has no dominant focus on any one particular topic (e.g., financials, sales, HR etc.). In recent versions, IBM has strengthened the product's web client with a modernized user interface and user experience, extended charting options and visualizations, workflow and predictive forecasting capabilities as well as enhancing its web-based modeling environment.
IBM Planning Analytics is used by enterprises of all sizes and industry sectors, and is suitable for creating data entry screens for multiple sub-budgets, consolidating their results, and running simple to highly complex calculations. Hundreds of solutions – from small-scale departmental tools to installations with thousands of users – have been implemented worldwide. Resources and expertise for Planning Analytics are widespread.
Cognos Analytics is IBM's BI & analytics platform. It combines ease of use with elaborate governance features in an end-to-end platform. The product can be used in large-scale scenarios supporting the needs of many concurrent users as well as large data volumes. IBM Cognos Analytics provides functionality for dashboards, pixel-perfect reports, data stories, data modeling and analysis in a unified web-based interface. A mobile app gives better access to created content. IBM also extends the advanced and predictive analytics capabilities of Cognos Analytics to bring business analyst and data scientist workloads together.
User & Use Cases
Customers mainly use IBM Planning Analytics for analysis (92 percent), planning/budgeting and forecasting (87 percent), standard/enterprise reporting (73 percent) and dashboards/BI applications (60 percent). 40 percent of respondents plan to use it for advanced analytics in the future.
IBM Planning Analytics targets large corporations and mid-sized companies across all industries. 83 percent of our sample of IBM Planning Analytics customers come from large corporations (more than 2,500 employees) with a median of 150 users, but the mean of 1,016 users indicates there are also several significantly larger implementations.
When IBM Planning Analytics is considered for purchase in software selection processes, it is most often evaluated in competition with Microsoft Power BI, Tableau and SAP Analytics Cloud.
Customers achieve an average of 9 percent usage penetration among all employees, which is significantly below the survey average of 20 percent. This indicates that the product is focused more on trained business power users than the majority of employees.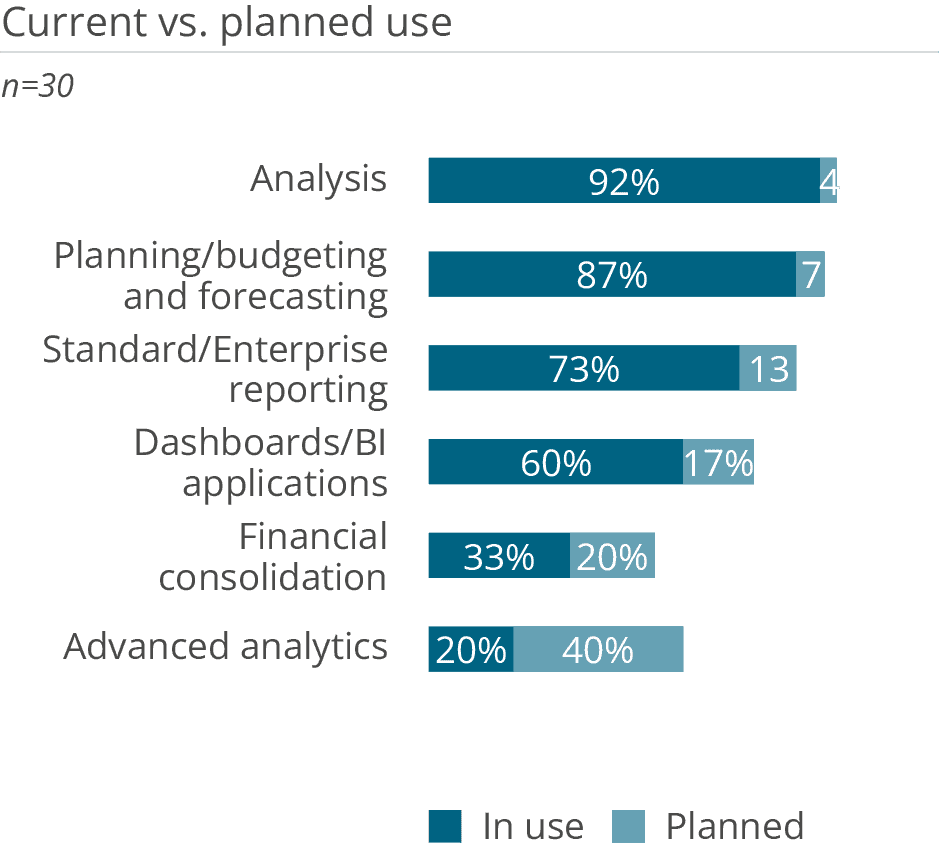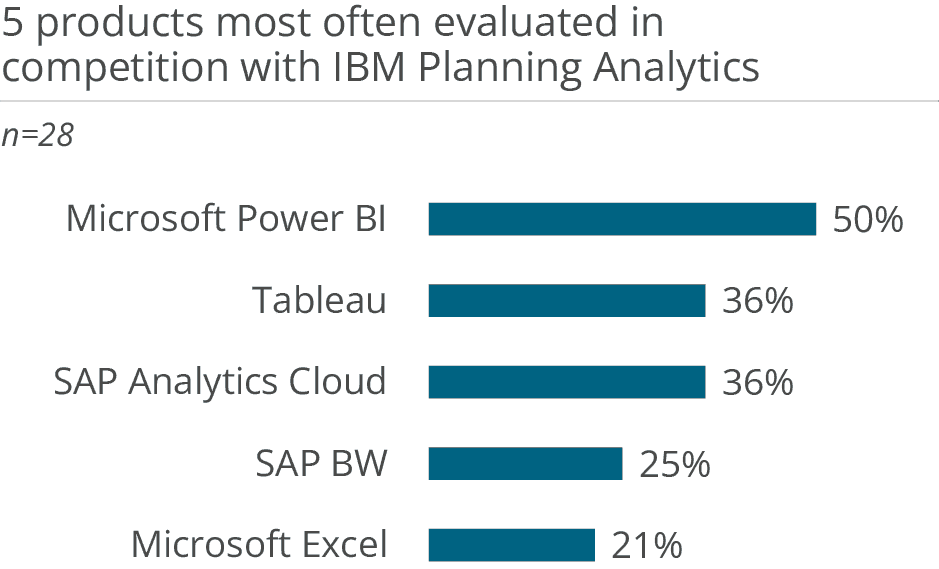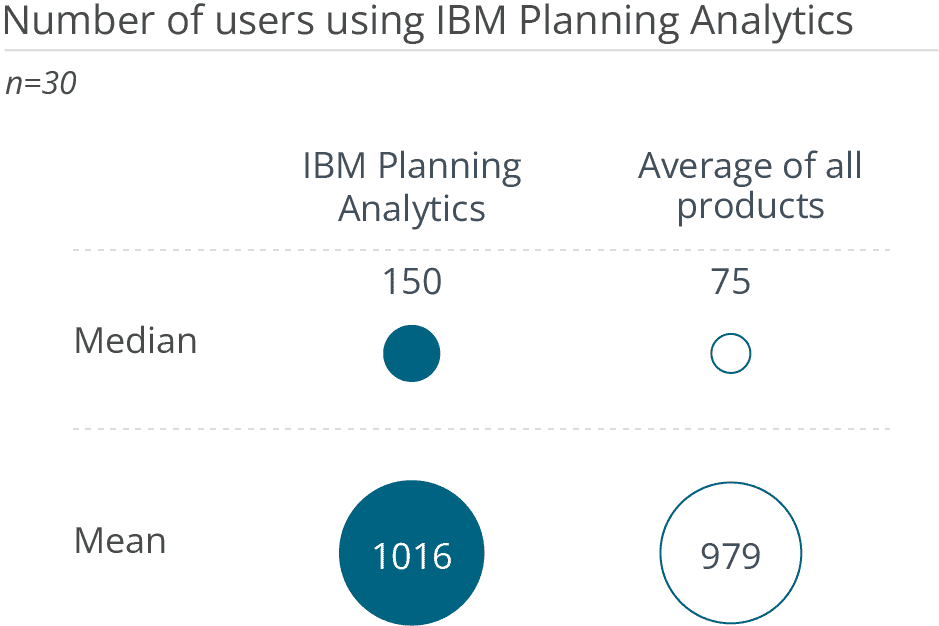 Want to see the whole picture?