Bissantz
Bissantz & Company (Bissantz) was founded in 1996 in Nuremberg, Germany. The company initially specialized in solutions for sophisticated data analysis tasks in business environments. Today, it has about 100 employees based in locations in Germany and Switzerland.
Bissantz DeltaMaster offers flexible and integrated functionality for analytics, BI and planning. The product targets mid-sized and large companies across all industries to support them in controlling and planning business performance. Most of its more than 500 customers are in Germany, Austria and Switzerland. Worldwide consulting and support is available through certified partners.
The strengths of DeltaMaster lie in its analytic capabilities, which include good support for proactive analyses as well as automated and predefined analytic methods with comprehensive visualization functions. Distributing information as well as quickly understanding and acting on content are strategic topics for Bissantz. Besides its BI and analytics functionality, DeltaMaster can also be used to build individual planning applications for top-down and bottom-up planning.
As a front end, DeltaMaster supports direct connections to multidimensional as well as relational databases. With DeltaMaster ETL, a data integration and modeling tool is available to support standardized data processing, modeling and transformation procedures.
DeltaMaster has comprehensive functionality for data analysis (including statistical and advanced analytics methods) with additional capabilities for reporting, dashboards and planning. Dashboards serve as a convenient entry point into analysis and reporting applications. Dashboards and cockpits are built by combining any number and type of DeltaMaster reports into a 'combination cockpit'. Many predefined reports are available in the analytic library (i.e., where each method can be used as a report) as well as the start wizard, which generates a complete briefing book with predefined reports. Users can also build individual static or dynamic reports using pivot tables or predefined analytic methods. DeltaMaster has several options for distributing reports and differentiates between access (i.e., online, offline-static, offline-interactive), output medium (i.e., Windows full client or web client; PDF, Word, Excel or PowerPoint file; HTML file; mobile briefing book on an iPad) and delivery types (i.e., push, pull, e-mail, file server, DeltaMaster Repository). Analyses generally start from a pivot table or a wide range of predefined analytical methods. Pivot tables support typical OLAP functions (e.g., drill-down, roll-up, slice and dice) for multidimensional data analysis. The predefined analytic methods are typically report templates in which users can drag and drop the desired data and KPIs. In place of classical business methods such as concentration, portfolio and cross-table analysis, the product also supports statistical and advanced analytics methods. Instead of table-based navigation steps, charts can be used for advanced analyses. DeltaMaster's vast array of intelligent analysis and visualization functions for large data volumes is one of its key strengths.
User & Use Cases
Customers mainly use Bissantz DeltaMaster for standard/enterprise reporting (91 percent), analysis (89 percent), dashboards/BI applications (75 percent) and planning/budgeting and forecasting (68 percent). 55 percent of respondents plan to use it for advanced analytics in the future.
Bissantz DeltaMaster targets mid-sized companies and large corporations across all industries. 73 percent of our sample of Bissantz DeltaMaster customers come from mid-sized companies (100-2,500 employees) with a median of 50 users, but the mean of 112 users indicates there are also several larger implementations.
When Bissantz DeltaMaster is considered for purchase in software selection processes, it is most often evaluated in competition with Microsoft Power BI, QlikView and IBM Cognos Analytics.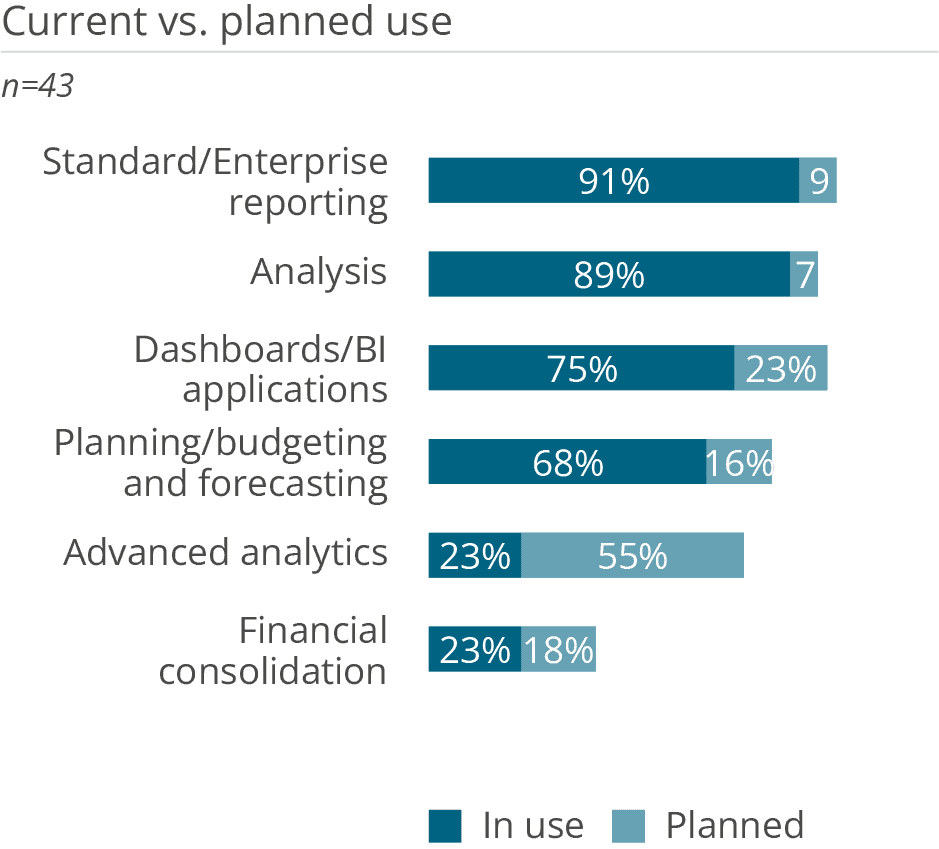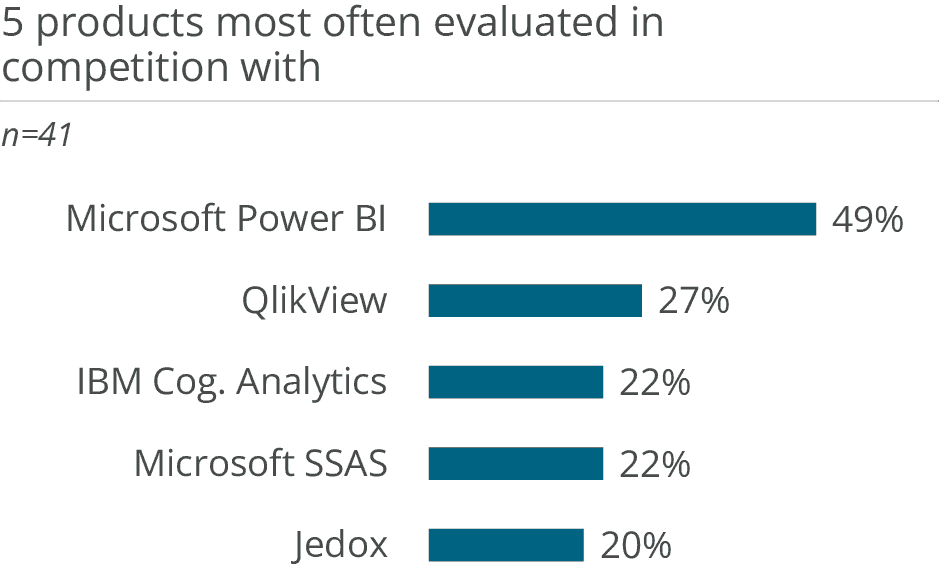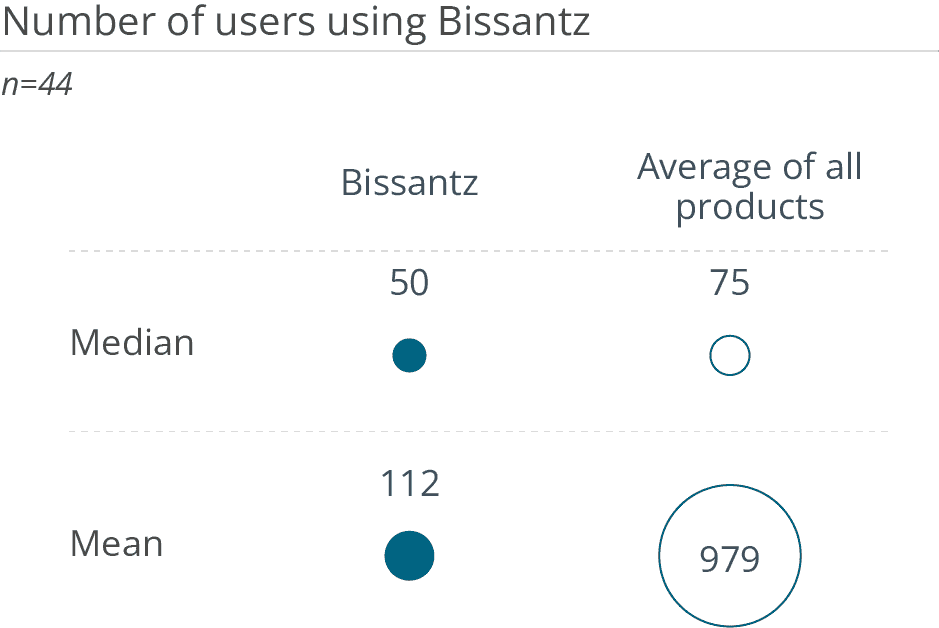 Want to see the whole picture?